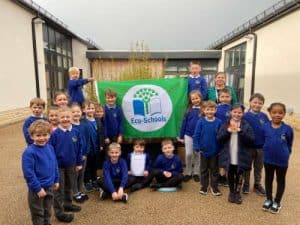 Feedback from our Assessor
"Congratulations to everyone at Underbank Primary School for achieving your 6th EcoSchools Scotland Green Flag Award!
I thoroughly enjoyed reading through your application and learning about the fantastic work you have carried out during this journey. We appreciate how challenging these times have been and celebrate that you were able to keep your Eco-Schools work going on despite all.
You have covered all Seven Elements of the Eco-Schools programme.
Despite the restrictions that have been in place, staff and students have shown commitment and determination in completing your planned actions. Well done.
The litter picks the pupils have concluded has giving them the opportunity to play a part in bring about positive change in their school, encourage other in taking care of the
environment, and has helped them become more aware of environmental issues.
Your participation in the Upcycle a Welly competition has helped the pupils to express their creativity and become aware of the importance of reusing.
The pupils have been involved in environmental projects as a way of 'giving back' to the less fortunate in which they have been educated of how their actions can make a difference and contribute to a more sustainable environment for all.
I loved learning that through investigating and discussing food waste you have been able to make a significant reduction in food waste by reducing the portions of the younger pupils and giving pupils a choice in salad ingredients.
The pupils have achieved a good understanding of your chosen Sustainability Development Goal, Responsible Consumption and Production, as well as having learned about Good
Health and Wellbeing, Zero Hunger, No poverty, and Climate Action through your engaging and interactive activities. These activities also allowed the children to learn about Global Citizenship and how they can contribute to the solutions of Climate Change.
Your Eco-Code gives a clear message of the school's mission in how to contribute to the solutions of climate change.
Your actions were very positive, and it is wonderful to see that the children have been covering a really good range of issues through their work.
Keep up the outstanding work and a big congratulations again to Underbank Primary School from everyone at Eco-Schools Scotland!"
Our work is based on UNCRC Article 24.
"We have the right to a clean and safe environment"